Next volume required is displayed while unpacking.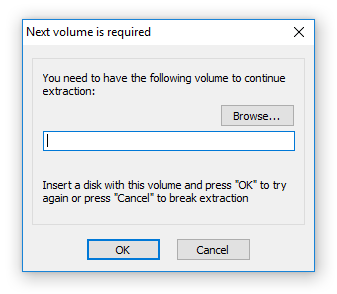 When the extraction software cannot find the next part.rar file, the "Next volume is required" text will appear.
Go to the
item's download page
and download the required serial part.rar file.
Once the download is complete, press Browse and select the downloaded file. Then press OK to begin extracting.
Or you can press Cancel to stop the extraction and move the file to where the other parts are located. You can re-activate the .exe file there.
If all the required files are located in the same folder(Ex. Part1.exe file in the same folder along with part2.rar, part3.rar, part4.rar), the "Next volume is required" text will not appear. The serial files would be unfolded automatically.
For more details, please refer to
Product Usage Guide>How to Download
.