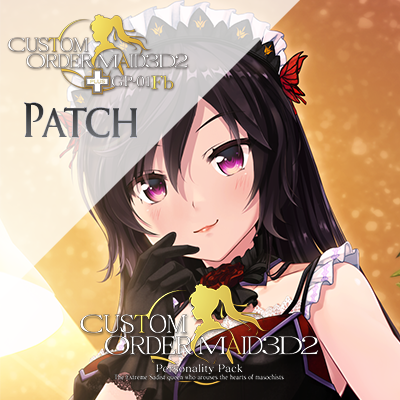 Personality Pack The Extreme Sadist queen who arouses the hearts of masochists GP-01fb
Required Software
・"Custom Order Maid 3D2" or "Custom Order Maid 3D2 GP-01"
・"Custom Order Maid 3D2 + GP-01Fb"
・"CUSTOM ORDER MAID3D2 Personality Pack The Extreme Sadist queen who arouses the hearts of masochists"

The above-listed products are necessary to play this game.
When "Custom Order Maid 3D2 + GP-01Fb" and "CUSTOM ORDER MAID3D2 Personality Pack The Extreme Sadist queen who arouses the hearts of masochists" are installed, this product allows you to play content from GP-01Fb with Extreme Sadist.

If you only have "Custom Order Maid 3D2" installed, you will not be able to play content from GP-01Fb with Extreme Sadist.
Please make sure that you have also installed "CUSTOM ORDER MAID3D2 Personality Pack The Extreme Sadist queen who arouses the hearts of masochists" and "Custom Order Maid 3D2 + GP-01Fb."

*About*
The new heroine type "Extreme Sadist" in "COM3D2" is now compatible with "COM3D2 GP-01Fb."
Now, with this new heroine type, you can enjoy yotogi and H events, just like for "Muku," "Majime," and "Rindere" in "COM3D2 GP-01Fb."
*Key Features*
・Extreme Sadist is now compatible with GP-01fb! You can now access the following content with Extreme Sadist
・Scout Mode.
・4 types of yotogi skills.
・Two types of H-event.
OS
Windows® 7/8.1/10 (All versions must be 64-bit.) *6
CPU
Required:Core i5 4Core 2.5Ghz or higher/Recommended:Core i5 4Core 3Ghz or higher
Memory
Required:6GB or above/Recommended:8GB or above
Video Card
Required:DirectX11 compatible GPU mid-range or above / GeForce GTX 560 or above OR Radeon R7 260X or above *1,*2,*3
Recommended:GeForce GTX 760 or above mid-range to high-end.
Resolution
Required:1280 x 720 or higher/ Recommended:1920 x 1080 or higher
Network
Recommended:Broadband Internet Connection (ADSL/FTTH/CATV) 8Mbps or above, TCP/IP *5
Others
VR System Requirements:OculusRift CV1/OculusRift S/OculusLink(Quest)/HTC Vive/HTC Vive Pro *4

*1: Not guaranteed to work with Laptops, all in one desktops, and tablet PCs.
*2: Not guaranteed to work with Mobile GPU and IntelHD Series GPU.
Does not correspond with RadeonHD Series GPU.
*3: Please install the latest Graphic Driver that is provided by your PC brand.
*4: Please install the latest Runtime that is provided by HMD brand.
*5: This product does not need internet connection to play, however, some contents will not be available offline.
Not compatible with mobile Internet connection and tethering devices.
*6: Not compatible with 32bitOS. Guaranteed to work only with the latest service pack.
Please follow the warranty period of OS providers. Windows 7 has been announced that the warranty lasts until January, 2020.
Released date
May 12, 2022