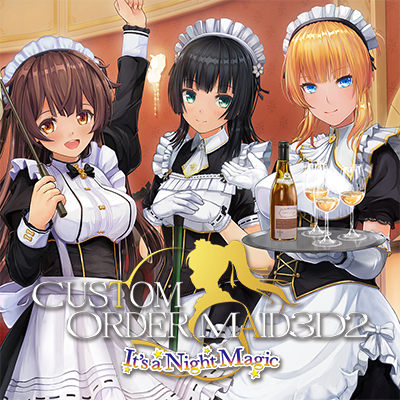 [Sale edition] CUSTOM ORDER MAID 3D2 It's a Night Magic
When using this patch on [CUSTOM ORDER MAID 3D2 It's a Night Magic] of Steam edition, please don't update this game on Steam.
You can avoid automatic update it as follows
Display the property of the game on Steam, and choose the update tab
Change the auto update into "Only update this game when I launch it"
Change the background download to "Never allow background downloads "

If the auto update starts when starting the game, please pause it
If the update accrued, please use the newest patch again to update.

The sell edition and the normal edition are the same data.
Even if the sell period is over, you can download it form your purchased page.
Sale period: November 16, 2023 ~ November 30, 2023, until maintenance.

To see product overview, please check the
Custom Order Maid 3D2 It's a Night Magic official homepage
.
This product is replaced with the latest version by a maintenance that is held at Aug 5th, 2020.
Please note that if "part files before replacement" and "part files after replacement" are mixed, it will not be possible to decompress normally.
OS
Windows® 7/8.1/10 (All versions must be 64-bit.) *6
CPU
Required:Core i5 4Core 2.5Ghz or higher/Recommended:Core i5 4Core 3Ghz or higher
Memory
Required:6GB or above/Recommended:8GB or above
Video Card
Required:DirectX11 compatible GPU mid-range or above / GeForce GTX 560 or above OR Radeon R7 260X or above *1,*2,*3
Recommended:GeForce GTX 760 or above mid-range to high-end.
Resolution
Required:1280 x 720 or higher/ Recommended:1920 x 1080 or higher
Network
Recommended:Broadband Internet Connection (ADSL/FTTH/CATV) 8Mbps or above, TCP/IP *5
Others
VR System Requirements:OculusRift CV1/OculusRift S/OculusLink(Quest)/HTC Vive/HTC Vive Pro *4

*1: Not guaranteed to work with Laptops, all in one desktops, and tablet PCs.
*2: Not guaranteed to work with Mobile GPU and IntelHD Series GPU.
Does not correspond with RadeonHD Series GPU.
*3: Please install the latest Graphic Driver that is provided by your PC brand.
*4: Please install the latest Runtime that is provided by HMD brand.
*5: This product does not need internet connection to play, however, some contents will not be available offline.
Not compatible with mobile Internet connection and tethering devices.
*6: Not compatible with 32bitOS. Guaranteed to work only with the latest service pack.
Please follow the warranty period of OS providers. Windows 7 has been announced that the warranty lasts until January, 2020.
Released date
July 31, 2019